uggs adirondackugg boots kensingtonjimmy choo ugguggs retro cargougg adirondack bootsuggs salediscount ugg ukkensington uggsuggs bailey button tripletugg moccasins
JKB&2JKB Series Dia.2-3.5m Mine Hoist-Mine Winder-Mine Winch-Mine Windlass
Product Application: Mine hoists/mine winders are mainly used to lift materials ,ores,personnel and materials in metalic mines and non-metalic mines. Working Principle: JKJKB series Single rope winding mine hoist/mine winder adopts the elec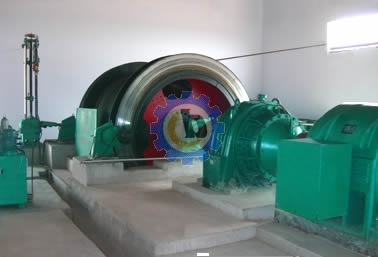 Product Application:
Mine hoists/mine winders are mainly used to lift materials ,ores,personnel and materials in metalic mines and non-metalic mines.
Working Principle:
JK&JKB series Single rope winding mine hoist/mine winder adopts the electric motor as power source. The power passing through the gear reducer and winding wire rope reel, reaching to the container by wire rope.
Through the electric motor drive and electric control system to achieve set speed. Electric control system can be rheostatic control, VVVF(Variable voltage and variable frequency) control, SCR(Silicon Controled Rectifier) analog control, SCR digital control.
Electro-Hydraulic Disk Brake is more advance than electro-hydraulic block brake. Electro-Hydraulic Disk Brake can stop the system in high efficiency and stability which increase the safety factor of mine hoist.
Through container depth position-indicator, the system implement instructions by a variety of sensors. Meanwhile tachometer generator can control other components to form a security protection system.
JKB Series Specifications/Features :
JKB series mine hoist/mind winder is produced according to Mine Hoist Safety Inspection Standard Of Mining Single Rope Winding Mine Hoist(version QB/HB026-2007,AQ1035-2007), China Single Rope Winding Type Mine Hoist Normal And Coal Mine Safety Regulation (version GB/T20961-2007) and other related current mining machinery products manufacturing standards.
JKB series mine hoist/mind winder is composed of several parts which is convenient for transportation and installation. JK series mine hoist/mine winder has simple structure, high working reliablility, easy operation and maintenance.
This series mine hoists are prohibited running overspeed, overload and slide outage strictly!
JKB series explosionproof mine hoist/mine winder equiped with explosion-proof type motor, which can be used in underground or explosive gas and dust environment. At work, the gas and coal-dust concentration in the surrounding air should not exceed the normal prescribed in The Coal Mine Safety Procedures.
Primary Competitive Advantages :
High Quality Control
Competitive Price
In Time Delivery
Better And In Time After Sale Service.
Reasonable Solution For Site Operating.
MODEL

DRUM

MAX.STATIC TENSION OF WIRE ROPE

MAX.STATIC TENSION DIFFERENCE OF WIRE ROPE

MAX.LIFTING HEIGHT OR TRANSPORTATION DISTANCE

QTY.

DIA.

WIDTH

DRUM CNETER DISTANCE

MANNED

CARGO

MANNED

CARGO

ONE LAYER

TWO LAYERS

THREE LAYERS

UNIT

Pcs

mm

Kg

m

JKB-2.5×2P

1

2500

2000

/

83

/

/

329

665

1041

JKB-2.5×2.3P

1

2500

2300

/

83

/

/

366

776

1210

2JKB-2.5×1.2P

2

2500

1200

1290

83

65

183

369

591

2JKB-2.5×1.5P

2

2500

1500

1590

83

65

238

480

730

JKB-2×1.5P

1

2000

1500

/

62

/

/

244

493

774

JKB-2×1.8P

1

2000

1800

/

62

/

/

299

604

942

2JKB-2×1.0P

2

2000

1000

1090

62

40

153

308

494

2JKB-2×1.25P

2

2000

1250

1340

62

40

199

401

634
MODEL

WIRE ROPE

REDUCTION RATIO

MAX.LIFTING SPEED

MOTOR

OUTLINE DIMENSION(L*W*H)

MACHINE DESIGN WEIGHT

MAX. DIA.

Total Broken Tension

ROTATE SPEED

MAX. POWER

UNIT

mm

Kg

 

m/s

r/min

kW

mm

Kg

JKB-2.5×2P

40

747

31.5

4.2

742

315

7575×3610×3100

35862

JKB-2.5×2.3P

40

747

31.5

4.2

742

315

8323×3610×2600

37585

2JKB-2.5×1.2P

40

747

31.5

4.2

742

250

8265×3610×2600

43852

2JKB-2.5×1.5P

40

747

31.5

4.2

742

250

9008×3610×2600

46243

JKB-2×1.5P

32

558

31.5

2.5

742

185

6664×3234×2600

24860

JKB-2×1.8P

32

558

31.5

2.5

742

185

7156×3234×2000

26230

2JKB-2×1.0P

32

558

31.5

2.5

742

132

7786×3032×2600

29821

2JKB-2×1.25P

32

558

31.5

2.5

742

132

7846×3032×600

31385
Tags: mine hoist,mine winder,mine winch,mine windlass